Supplies List

Plans, Instructions, Software and More Information

Mirror Making Class
---
Supplies List
Blanks can be purchased from the following companies:

Willmann-Bell, Inc.
(804)320-7016, about 5 days for delivery.
You can now order mirror blanks direct from their website.

ASM Products Reg"d Canada
BVC Black vitrified ceramic blanks
(514)898-3990, About 6 to 8 weeks for delivery.

Newport Glass Works, Ltd.
(714)642-9980, allow 10 to 14 days.

United Lens Co., Inc.
259 Worcester St.
Southbridge, MA 01550-1325
(508) 765-5421
Grit

Ocean State Abrasives
www.osabrasives.com

Ebony Star Formica
C&R Decorative Surfaces
727 328-8669

ScopeStuff has precut ebony star strips They also have small precut pieces of teflon too.
Tubes

Tampa Tube went out of business in 2007

CMC Construction Services Sonotubes
AKA Shepler's 1201 North 34th Street
Tampa, FL 33605
(813) 248-5959
Weather Stripping

American Discount Marine
6000 66th Street N
St Petersburg, FL 33709
727 546-8484
($0.85/ per foot)
Plaques

All American Trophy Works
6240 39th Street N Ste B
Pinellas Park, FL 33781
727 525-6880
($20 for a nice plaque to put on your
scope with specs and a nice mirror
lab logo)
Woodcraft

woodcraft.com
18891 US Hwy 19 North
Clearwater, FL 33764
Phone: 727-532-6888
Coating

Club members offer Aluminum only coating at $5/inch. Bring your mirror by the lab on Saturday and we"ll coat it and return it to you on a following Saturday.

Spectrum Coatings
spectrum-coatings.com

---
---
Mirror Making Class
Ever think of making your own mirror?

Want the best possible images from your scope?

St Pete Astronomy Club Mirror Lab can help.

The Tampa Bay area isn't known for it's good clear skys. We have clouds, rain, haze and humidity to deal with in addition to light polution. As a result we have to make our mirrors better.

For several years the Tampa Bay Mirror Lab has helped young and old learn the art and science of newtonian reflector mirror making. We can show you what we do and how easy it is for you to start making your own optical masterpiece.

The mirror lab offers a year round mirror making class. First time mirror grinders are now recommended to start with 10 inch blanks. (8inch is still acceptable). First timers are also recommended to work towards a focal ratio of f/6 as this is the easiest.

Course description:
Student will construct a ceramic tiled tool for grinding. Basic grinding techniques to acheive spherical curve will be demonstrated. The making of a pitch lap for polishing and figuring will done for each student. How to perform the Foucault and Ronchi tests. Guidance in the use of software to make Millies-Lacroix plots.
---
The Fine Art of Mirror Making

The mirror lab offers a class for those interested in grinding and polishing their own telescope mirror.

Grinding Starting with 60 grit going all the way to 5 micron cerium oxide (CeO) the basic curve is created (11 hours)

Making a Pitch lap After grinding, a new tool is made out of pitch. This is used to polish the mirror smooth.

Polishing (8 hours minimum)

Testing This done concurrently with polishing and figuring. (it only takes a few minutes with our robotic foucault tester)

Figuring It might only take a couple of minutes and a few strokes to turn a spherical mirror surface into a fine parabolic reflector.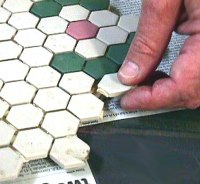 Instead of glass we use
ceramic tile glued to a wooden base
as our grinding tool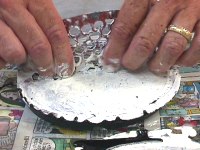 We have molds for making many
different shaped pitch laps
Glossary
blank aka mirror blank. This is a flat piece of glass, either plate glass or pyrex, that is ground and polished into a telescope mirror.
f/ratio - the focal length divided by the diameter of the mirror. Less than f/5 a mirror is termed "fast" and is good for wide field viewing. More than f/6 and a mirror is "slow" and better for high magnification and planetary work. Through much trial and error we believe f/6 is the most preferred f/ratio.
Focal Length - measured from mirror surface to a point where a reflected image is formed.
grit size - the number of grains per inch (e.g. 60 grit has 60 grains of silicon carbide per inch) The larger the number the finer the grain.
parabaloid - the perfect shape for a mirror to reflect an image. A spherical shape is naturally formed by the grinding and polishing process. It"s a little trickier to deepen the mirror just the right amount to turn it into a parabaloid.
radius of curvature - twice the focal length. This is the radius of an imaginary sphere that the mirror surface conforms to.
sagitta - a fancy term for the depth of a mirror. The sagitta is created by grinding away the surface of the mirror blank.